All files in Transfer's Download list can be added to self defined categories. The first category is always all which shows either all downloads or downloads filtered by the View Filter. To access the options for the categories right click on any existing category.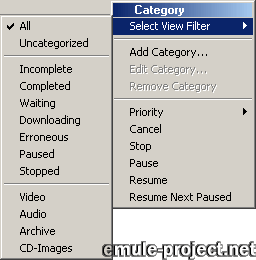 Select View Filter
This option is only available in the first category and let's you filter it for certain file types or file statuses.
| | |
| --- | --- |
| All | no filter, all files are shown |
| Uncatalogued | Only downloads which are not in any self defined category are shown |
| Incomplete, Completed, Waiting, Downloading, Erroneous, Paused, Stopped | Filters the list according to the downloads status as displayed in the Status column |
| Video | Video files with following extensions .mpg, .mpeg, .avi, .divx, .rm, .ram, .wmf, .asf, .vivo, .mov, .ogm, .vob |
| Audio | Audio files: .wav, .mp3, .ogg, .mp4, .aac, .flac, .ape, .au, .wma, .mpc, .mp2 |
| Archive | Archive files: .rar, .zip, .ace, .gz |
| CD-Images | .cue/.bin (CDRWin), .mds/.mdf (Alcohol120%), .ccd/.../files/help/1033/.sub (CloneCD), .bwa/.bwt/.bwi/.bws (BlindWrite), .nrg (Nero) |
Add Category
Creates a new Category. The settings to choose for this category are optional and the default Incoming Files Folder is used unless specified otherwise.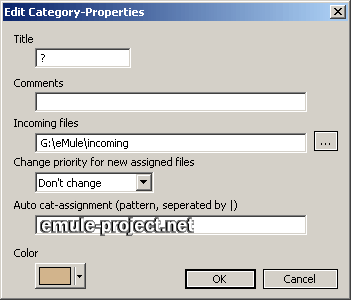 o Title
Name of the Category as it will be displayed
o Comment
Description or comment.
o Incoming Files
A separate Incoming Files directory can be used for each category. Completed files are move to this folder. eMule uses the default folder when leaving it empty.
o Change priority for new
Files added to this category are automatically set to the specified priority.
o Automatic Category Assignment
When starting new downloads, they can be assigned automatically to this category, if the filename matches a given pattern. | is used to separate different keywords and * can be used as a wildcard for an arbitrary string.
Example: *.avi|a*.*
This would assigne new files with the extension 'avi', and filenames starting with an 'a' to this category.
o Color
Defines the color used for the files of this category. This setting also affects the category all to show all files and their corresponding category on one glance.
Edit Category
All settings of Add Category can be changed at any time.
Remove Category
Deletes the selected category. The files in the category will not be affected.
Priority, Cancel, Stop, Pause, Resume
These commands apply to all files of the category. Be careful with the Cancel command.
Download in alphabetical order
See the Chapter Source Management for more details on categories priority and this option.
Resume next paused
Upon completing of another download a paused download of the chosen category will be resumed.
Adding files to Categories
Files can be added to categories by a download's context menu (right mouse button) -> Assign to Category or by drag and drop. Select a download, hold down the left mouse button and drag it to the desired category. Multiple files can be selected with the CTRL-key or the SHIFT-Key.
In the Search windows files can be added directly to categories by choosing it with the buttons on the bottom of the search dialog before downloading a search result.
Applies to version: .43a +
Last update on: 2004-07-18 , Monk