eMule features a Webinterface which allows remote access and administration of its functions and settings. The Webinterface can be opened within any browser as long as the current IP address of the machine hosting eMule is known.

To connect to the Webinterface the IP address and the corresponding server port have to be entered as address in a browser. The address has to look like a normal web URL, i.e. http://xxx.xxx.xxx.xxx:port. The Xs represent the current IP address and port is 4711 when using the Webinterfaces default settings. The server's port has to be forwarded if using a router or logon will not be possible. Refer to the Ports topic in this FAQ for more information
To test the server on the same machine eMule is running on enter the localhost http://127.0.0.1:4711 as address.

DynDNS Hosts
Many ISPs providing dial up access to the internet force a redial every 24h to assign a new IP address. In order to log into the Webinterface its current IP address has to be known.
Many free services provide a convenient solution to always know the current IP address - DynDNS Hosts. These services allow to assign a static host address like http://myAddress.myHost.com to machines on dynamic IP. A small utility, called Dynamic DNS Client Program, which has to run on the computer eMule is running on will update the IP address to the static host whenever the IP changes. Now the Webinterface can be simply accessed over the static host http://myAddress.myHost.com:4711.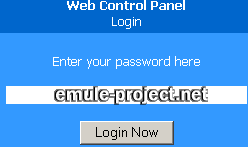 If the correct address is entered the logon screen is displayed. To enter the Webinterface provide the password set in the Webinterface's preferences.
Important:
It is strongly recommended to set a proper password in the preferences. If no administrator password is set, anyone can access your eMule and may set preferences, delete or add files etc.



Access to nearly all functions of eMule is provided in this web interface. All changes will directly affect eMule on the server PC.
Applies to version: .27b +
Last update on: 2003-03-21 , Monk